Fourth Ride of the Season
April 4, 2012
Today was the first day Little Girl and I biked to knitting this year.  It was a bit rushed, we had a busy day.  I was kind of waiting for T to be ready so we could bike together as far as his work.  There was an early morning crisis, and he started his work day as a cyber commute and wasn't finished before I would have been late.  Not there is an official start time for knitting.  It is just drop in, but I had a bunch of stuff to do today and wasn't going to stay to the end.  Anyway, I was on my bike shortly after 9am.
I have to say I really enjoy the cheapo bike computer I added to Unnamed.  It looks completely stupid, but I like to see how fast and how far I have gone.  I now know that on the flat bits of our ride, I comfortably go about 20kms/hour.  Going down the bridges, I have to break because with the trailer pushing my steel framed bike, I easily hit speeds of 35 km/h and could likely go even fast.  That doesn't feel safe.  Going back up the bridges, I just walk, but that is later in the story.
By the time we got to T's work, I had a problem.  Little girl had unbuckled her seat belt and was bouncing around in the trailer.  We had to stop and rebuckle and have a discussion about seat belts.
From there it was over the bridge, through the pretty part of town by the river.  You know, the area with the big old houses that I could never afford.   The ones I tell myself are too big and that I wouldn't want to clean, but NONE THE LESS, I look them up on MLS when ever there is one on the market and swoon over the wood work and architectural details.  Yeah, that neighbourhood.
Sigh.
I really do love my house.  I love how it has original features.  I love how we have retained them as we have been doing our upgrades, but I would rather be preserving 1900s details than ones from the 1960s.  On the other hand we didn't have to worry about knob and tube, but I digress.
I had to cross a few scary busy streets to get to knitting.  I handle this by getting off the bike and walking through the pedestrian corridor.   I will bike with traffic that is going up to 50km/h, but once the speed is 60km/h I try to ride on side streets or walk on the sidewalk.  I know this is a controversial subject in the cycling community, but I don't care.  I will do what feels safe when I am biking with my kids.
The down side of this, of course, is that the side streets are not well maintained and have a lot of road debris.
Little girl and I made it to knitting by 9:45.  It isn't great time compared to last fall, but is better than last spring.
There isn't any bike racks and the lot was sort of full, so Little girl and I locked up next to the store on the no parking side.  I made sure to ask if this was OK, and so far so good.  I can see why there aren't any racks.  The store is in an industrial area where only loonies would bike.  But if  you do bike to get there, the lack of parking is a problem.
Knitting went well.  I have set aside the peer pressure sweater for a little while.  Bike season has put on the pressure to make a lighter weight neck warmer that won't untie and start flapping as I pedal.  I picked this one from Heart Strings, mostly because a lot of the girls at knitting have already made it and I can get help if I need it.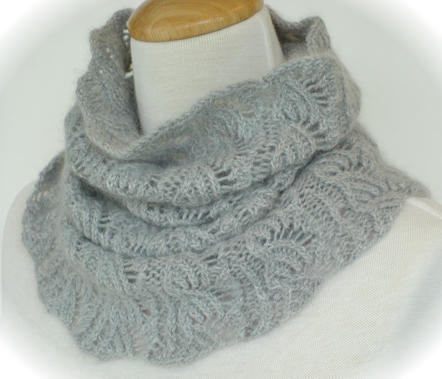 So far, it is going really well, but really slowly.  I haven't ever knit lace before and I don't get a lot of time.
Today for example, I only got to knit for about an hour.  By the time we locked up and got Little girl settled with some toys, then did some potty runs, there wasn't much time to actually knit before we had to pack up, clean up and go to the next thing.
The next thing was a picnic lunch before heading to my local LLLC meeting.  Little girl hasn't been a nurseling in over a year now, but many of the kids her age have baby siblings now so their mom's still attend.  It's a good play date and I get of offer support for women who want to nurse.  I have the perspective both of some one who pumped at work and of someone who made significant financial changes to their life in order to stay at home.  Women who are at or near the end of their mat leave sometimes need to talk about both options.  I don't mind saying that both were hard and that both had advantages and disadvantages.  Lots of women just pick one and berate the other.  I like to think I can speak candidly about either one.
This is the part where I didn't plan my route as well as I should have and I ended up pushing my bike through down town and up the Broadway bridge.  My speedometer read about 5-7 km/h.  That number becomes very interesting later in the day.
We locked up next to the LBS and I converted the trailer to stroller mode.  It's about five blocks from LBS to the hall where LLLC meets.
Little girl had a good time, I got to visit with grown ups, it was great.
Afterwards, we walked back to the LBS and ….  Little Girl got her first bike!  Yay!
Which she insisted on riding home.  Umm.  Yeah.
She made it most of the way to T's work but it took over an hour.  We were going so slowly that I was pushing my bike and the trailer and the bike computer didn't even register that we were moving.  It is good down to 0.2km/h.  We were being passed by grannies with their walkers.  THAT slowly.  She had a HUGE grin on her face and I didn't want to mess with that, but it quickly became apparent that were we going to run out of time to go for lemons.  Then it became apparent that we weren't going to get home in time to make supper.
After an hour and a half of walking, I packed up her and her bike and biked the rest of the way to T's work.  She complete passed out in the trailer.  It was a lot of walking for little legs.  T and I biked home together into a NASTY head wind.   We started joking that V has to get her drivers license so she could come and rescue us with the bike trailer.
By the time we got home we were both exhausted.  You may have noticed that T has a massively heavy trike.  I don't even want to think about how hard it is to make that beast go.  So, it was take away pizza and home made salad.  Not the best dinner I have ever made.
To my regret, I had to cancel my visit to Gramma I.  I was so tired I could hardly walk.
Fourth ride of the season: 64km, took all day.  I am very sore.